Attend our SPRING Open House
We look forward to welcoming you to our Open House for parents, prospective students and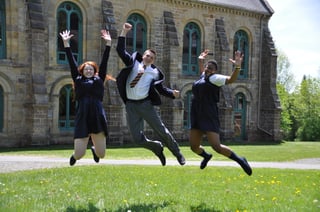 siblings. Please provide us with some basic information and we will reserve your space. Here is a quick look at our itinerary; remember lunch will be provided for all our guests.
Open House Itinerary - Friday, April 6, 2018
11:00 am – 2:00 pm
11:00 am -

Official Greeting

(Convocation Hall)

Meet Staff & Current Students

Tours of campus including classrooms, Athletic Centre, Theatre, Concert Hall, Student Residences
12:15 pm -

Lunch

(Dining Hall)
1:00 pm -

Open Forum: Information, Presentations, Question & Answer Period

(Theatre)
2:00 pm -

Departure (approximate time)
We hope you will join us. Simply complete the form to the right and we will be ready for you!
If you can't join us on April 6, we would be delighted to set up a visit at a date and time that works for you.