Plan a Virtual Visit to King's-Edgehill School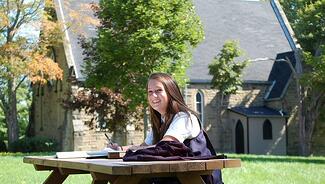 While our campus is very quiet at the moment, we are still very much OPEN to sharing our School with you.
King's-Edgehill School is the oldest independent school in the British Commonwealth. We truly value tradition, but we are also known for our adaptability and our modern approach to education. Just as we have changed the way in which we teach, lead and engage with our students we have adapted the ways in which you can experience our School as a prospective family.
One of the highlights of the admissions process is personally showing families around our beautiful campus. While we can't do a traditional tour, thanks to technology like: FaceTime, Whatsapp, and Zoom, we have been bringing the campus to living rooms, offices and kitchens around the province and throughout the country. While our campus is not the same without our 350 vibrant students—a virtual tour still gives you the opportunity to experience the campus, see the aspects of our School that might not be captured in our videos or photojournals and to ask your individual questions.
How does a Virtual Tour work? You book a personalized tour with our Associate Director of Admissions, Karen Moore. With the technology of your choice, you'll be toured around the campus the same way we would if you were able to visit us in person.
Simply complete the form and we will set up your personal virtual tour of King's-Edgehill School. Come along as a family, bring your questions and the places you would like to see, and we can even record the tour for later reference or to share with other family members.
Fill in this form and we will contact you to plan your virtual visit.