See just what it's like to be a student from Good Morning to Good Night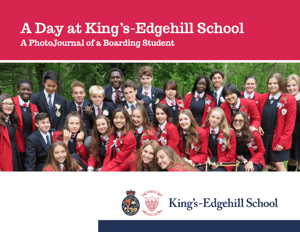 Are you curious about what your child will experience as a student at King's-Edgehill School? Would you like to know more about the variety of activities your child will enjoy in the space of a single day?
Maybe your child has questions about what they'll wear, or what rooms look like. Our photojournal is a great introduction to what life is like when you're part of the King's-Edgehill family.
Download A Full Day at KES to find out more about:
What time we say good morning and good night

Our beautiful campus in Windsor, Nova Scotia

What our students look like in uniform

Some of the sports your child can play

What our boarding students do on the weekends
Sneak a peek at King's-Edgehill School – download the PhotoJournal now.
Simply complete the form to the right and we'll send you a copy.